Overview
The ATT MYOB AssetManager Pro inferface imports and exports information with the MYOB AssetManager Pro software.
Asset and optionally Location Barcode information is exported from MYOB AssetManager Pro for use with the ATT software. After scanning, the ATT software prepares a Scanned Information file for importing into the MYOB AssetManager Pro software as illustrated in the diagram.
Diagram
The diagram below displays the components involved in the communication between a MYOB AssetManager Pro host and the ATT software.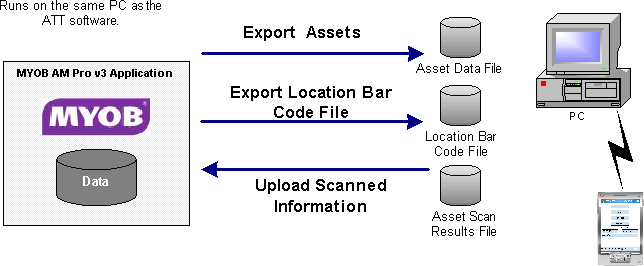 Special Notes
The MYOB AssetManager Pro

Asset Barcode

file is not used by the ATT. This file contains only minimal information. The ATT software can utilise and display much more information than is available in the

Asset Barcode

file. Hence the ATT software uses the

Assets

file for asset information, as it contains much more information about each asset.
If user defined asset number are used in MYOB AssetMAnager Pro instead of system generated asset numbers, it is important that the asset number entered does not contain leading zeros.
ATT can be configured to support the Location bar codes printed directly from MYOB AssetManager Pro containing the internal location code. Alternatively, ATT can use other bar codes that contain the more "friendly" location description instead of the internal location code.